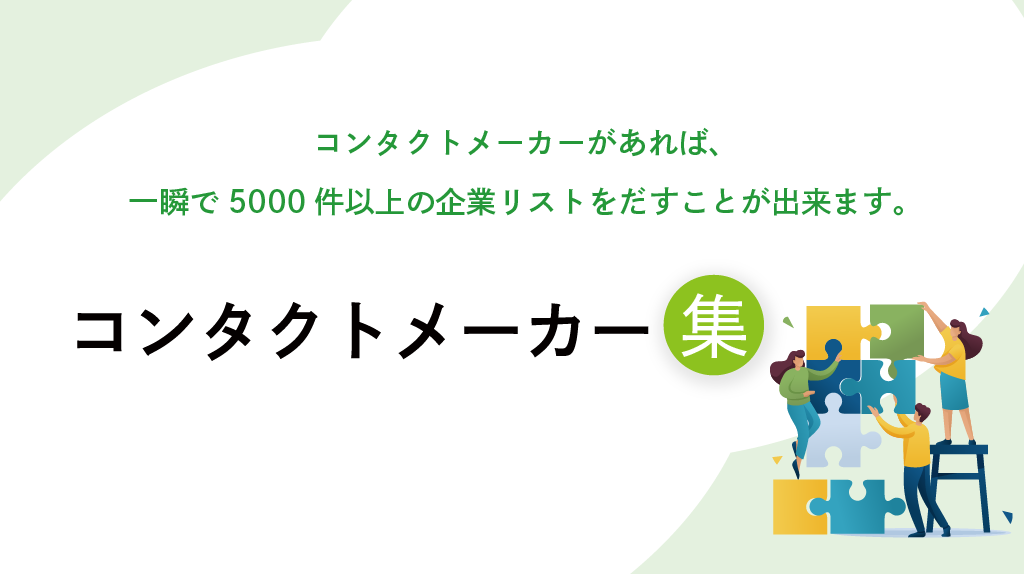 A crawler (search engine robot) service that efficiently searches and lists company information. If SEO is a PULL-type marketing method, "Contact Maker" is PUSH-type marketing tools.
With "Contact Maker", for example, you can do this:
・I would like to know the telephone number and URL of companies in the city of Nagoya, which is an advertising business and has more than 50 employees.
・I want to know the address and phone number of coffee shops in Shizuoka prefecture.
Feature
1
Overwhelming time reduction
When I try to create a company list manually, I search on Yahoo! or Google… No matter how fast, it is about 50 in an hour. It takes 100 hours to list 5000 items.
If you use a "Contact Maker", you can create a list of more than 5000 in an instant.
If you request an outside company to create a list, it will cost about 15 yen per case even if it is cheap. This product is very reasonable at 4 yen per case.
You can narrow down and search the information of 5 million companies nationwide, and all are updated with the latest information within one month.
4
Extensive search function
From address, TEL, FAX, sales, number of employees, representative name, business content, we will merge as much information as possible and create an automatic list.
Price
| | | | |
| --- | --- | --- | --- |
| Initial Cost | ¥9,800 | | |
| Monthly Cost | ¥19,800 | ¥59,800 | ¥99,800 |
| Number of information | 5,000 | 20,000 | 50,000 |
| Minimum contract term | 6 months | N/A | N/A |
About inquiry / application
Please contact us after writing the product name from the form below.