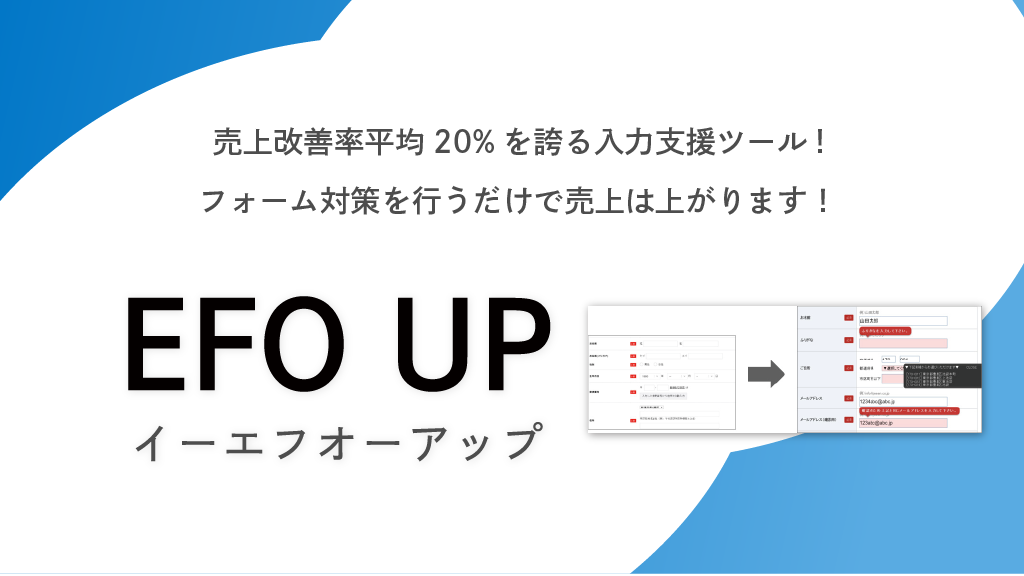 We aim to maximize cost-effectiveness by simply introducing the tag.
With more than 1,400 forms introduced, we have achieved an average CVR improvement of 6%.
By linking with Japan's first Yahoo! JAPAN / Facebook ID, compatibility with each advertisement has improved dramatically!
It is an EFO (input form optimization) tool that maximizes conversion with an input support function that teaches input errors in real-time and an analysis report that shows the cause of leaving at a glance.
Sales point
1
It is a low cost. (Fixed monthly fee instead of pay-as-you-go)
2
Easy introduction (Only tag embedding)
3
Detailed analysis is possible and the effect is immediately effective.
4
Full support after the introduction (Submission of a form renewal plan)
Price
Initial fee ¥30,000 (+tax)
Monthly fee ¥30,000 (+tax) / 2 forms
The first month will be provided in one month regardless of the EFO implementation date.
(No prorating is done)
About inquiry / application
Please contact us after writing the product name from the form below.