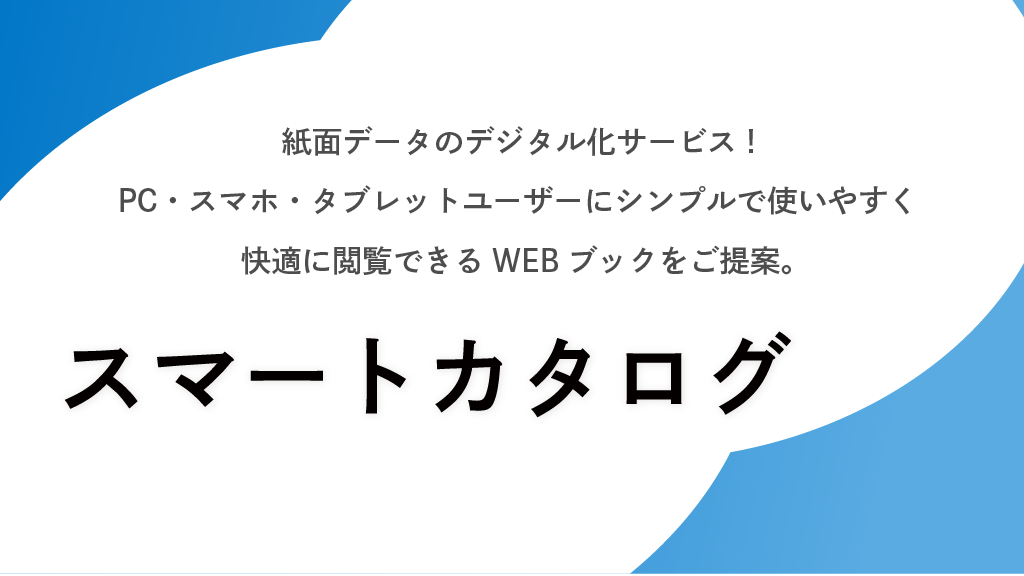 A service that creates WEB book data and optimized PDF files that allow you to comfortably browse paper page data on a PC, smartphone, or tablet.
Sales point
1
Simple and easy operation
It can be used by many users because it can be operated as if it were digital, but with an analog feel.
Smart Catalog is a viewer designed with the user's operability in mind.
Even a wide range of users, from children to the elderly, can browse as if they were holding it.
2
Expand opportunities with the sharing feature.
A sharing function that opens up opportunities for many people to see!
You can share not only the designated page but also designated places with your friends on Facebook/twitter.
You can also get it to more people by distributing it in the e-mail magazine.
3
Supports browser-based multi-device
Users can browse the optimal digital catalog for their devices without even realizing it.
Price
◯Basic Setting fee
¥10,000/book (+tax)
◯Page Production fee (Flash ver. + Js ver. + PDF)
¥2,000/page (+tax)
※Zoom Up:Flash (200%/400%) / Javascript ver. (400%)
※Spread will be 2 pages
※Page Layout (Original Design) is not included
◯Setting up Links (Flash ver. + Js ver. + PDF)
¥450/link (+tax)
◯Table of Contents Setting
¥450/content (+tax)
※Flash ver. is for PC ※Js ver. is for smartphone.
About inquiry / application
Please contact us after writing the product name from the form below.