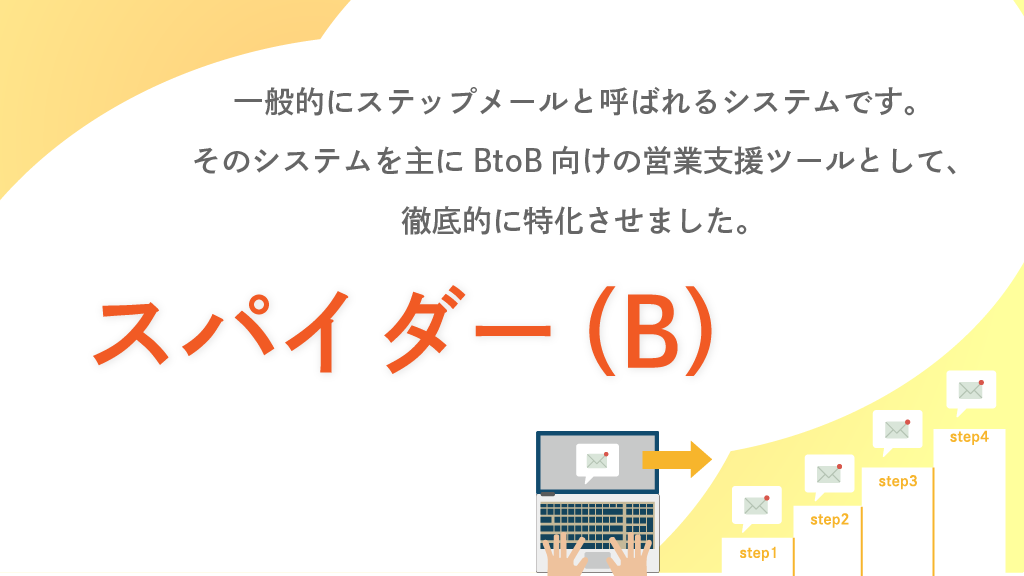 "Spider (B)" is a tool specialized in the step mail system as a sales support tool mainly for BtoB. Entrepreneurs, managers, and sales representatives who want to do efficient sales are indispensable tools.
Application example
Assuming there are five salespeople, one salesperson exchanges business cards with four customers a day. There are 80 customers per person in a month, and there are 5 salespeople, so 400 customers in a month. There are 4,800 customers a year. And it is 25,000 customers in 5 years. I don't think there are almost any companies that have established a system that can always contact such huge customer data. "Spider (B)" makes it possible with just 5 minutes of work every day.
You can register a story that can be used for product/service guidance, etc. on the management screen and perform click emails, so you can sequentially send efficient customer emails in about 5 minutes each day, obtain appointments and information on new products, or you can easily implement activities necessary for sales, such as seasonal greetings.
Feature
There is a story registration and click mail function that can be used for product and service information.
It can be sold out or used at a low monthly cost.
There is no limit to the number of deliveries, and it is easy to follow! Easy to manage! Registration is easy!
Price
| | |
| --- | --- |
| Initial Cost | ¥480,000 |
| Monthly Cost | ¥0 |
| | |
| --- | --- |
| Initial Cost | ¥70,000 |
| Monthly Cost | ¥15,000 |
※ The minimum usage period is one year.
※ tax is not included
Main function
・It is possible to register stories that can be used to guide products and services.
・No delivery limit
・Easy delivery with click mail function
・Management function for easy customer follow-up and registration
About inquiry / application
Please contact us after writing the product name from the form below.