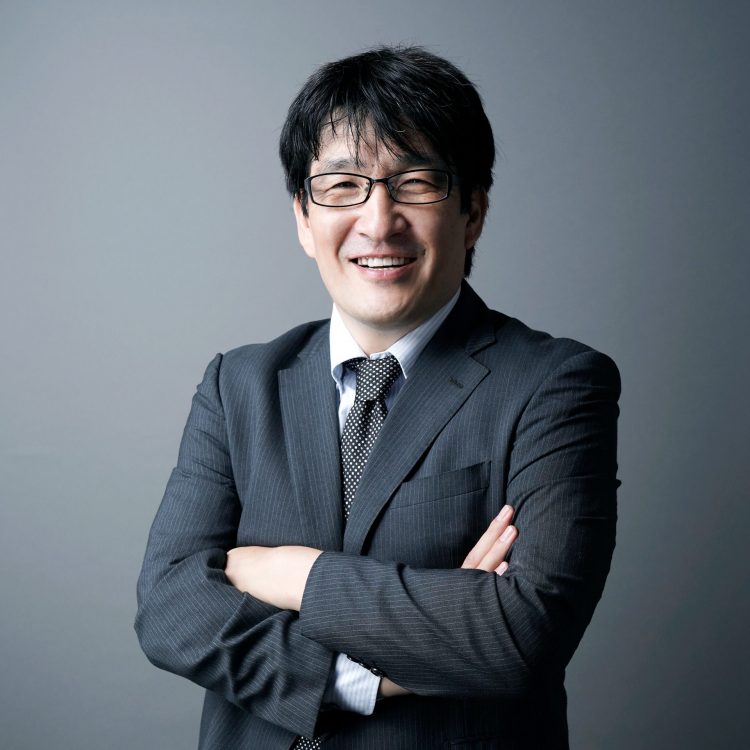 I've tested the current business model at many companies for five years before it was founded.
Companies already have many years of experience and knowledge. I have felt that it is necessary to support strategic planning and execution based on the inherent experience, knowledge, and strengths rather than proposing the strategy itself.
Therefore, in December 2012, with the meaning of "I want to be a strategic partner for all companies", we have made a new start with the company name as "Strategic Partners Co., Ltd." The fact is that poor sales account for nearly 70% of corporate bankruptcies. That is why in order to revitalize this blocked Japan, I think it is necessary for not only large companies but also medium and small-sized companies to become healthy. Japanese society is supported by corporations and other corporations. The profits generated by corporations support the lives of each and every employee to which they belong, support the lives, health, and education of their families, and support the creation of a society that extends to the region and the nation. In other words, we believe that the revitalization of a company through our services is truly a social contribution.
CEO Hiroshi Ashida
Management activity concept
経営活動の考え方
the meaning to exist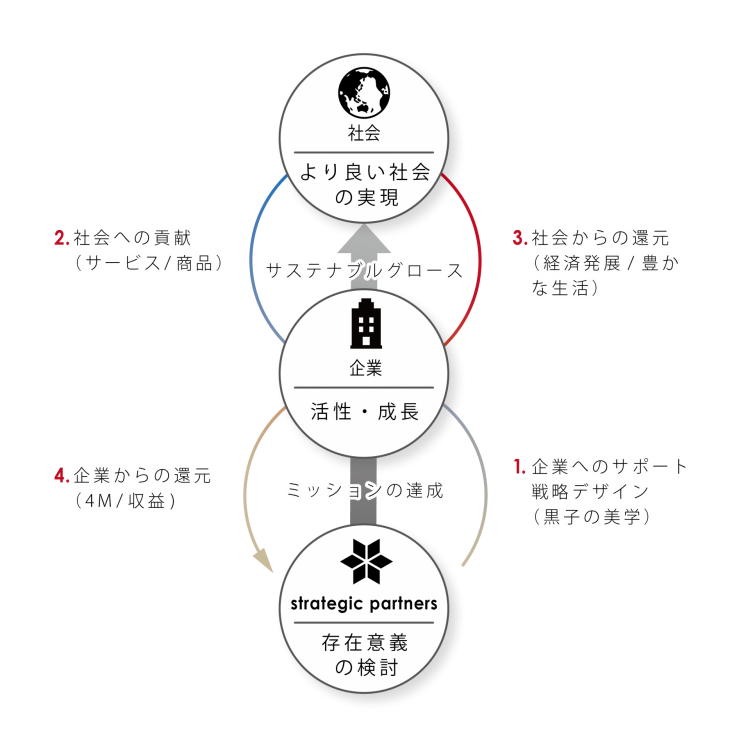 It is important for a company to exist with a mission, and we believe that the company will eventually be weeded out by society just to make a profit. Strategic Partners will continue to support organizations such as companies and local governments in order to constantly create the ideal type of society with the goal of achieving the mission as long as it survives as a company.
The corporate revitalization that is possible with the support of Strategic Partners for companies will bring about the enrichment of society and individuals as well as the companies themselves.
Management activity concept
The pursuit of "out of hands" and "efficiency" will diverge from respect for customers. It may be said that he is not good at Business. Maximize the corporate value of the customer even if it becomes crude.
02
Training of human resources is the most important
It is said that the retention of human resources and quality preservation is difficult, but our company does not escape from that. Through our corporate activities, we produce many excellent human resources in society.
03
Our company is small, customer KGI is big
It is important to aim at a small company. From the appropriate distribution of profits, research, educational investment, and customer burden reduction are achieved. This policy contributes to the achievement of the result, the customer KGI.
04
Creating new trends as a partner company
We are not a consulting company, an advertising company, an IT vendor, etc. By integrating tactics from strategy, we create a new trend of partner companies.
05
Corporate (Organizational) activities are a real social contribution
Corporate (organizational) activity generates goods and services for society, leading to the formation of an economic cycle. Corporate support is the best social contribution.
06
Turn work into play, play into work.
Creative manufacturing, team building, and results sharing are some of the best entertainment options. If you turn work into play, there is no more enjoyable work.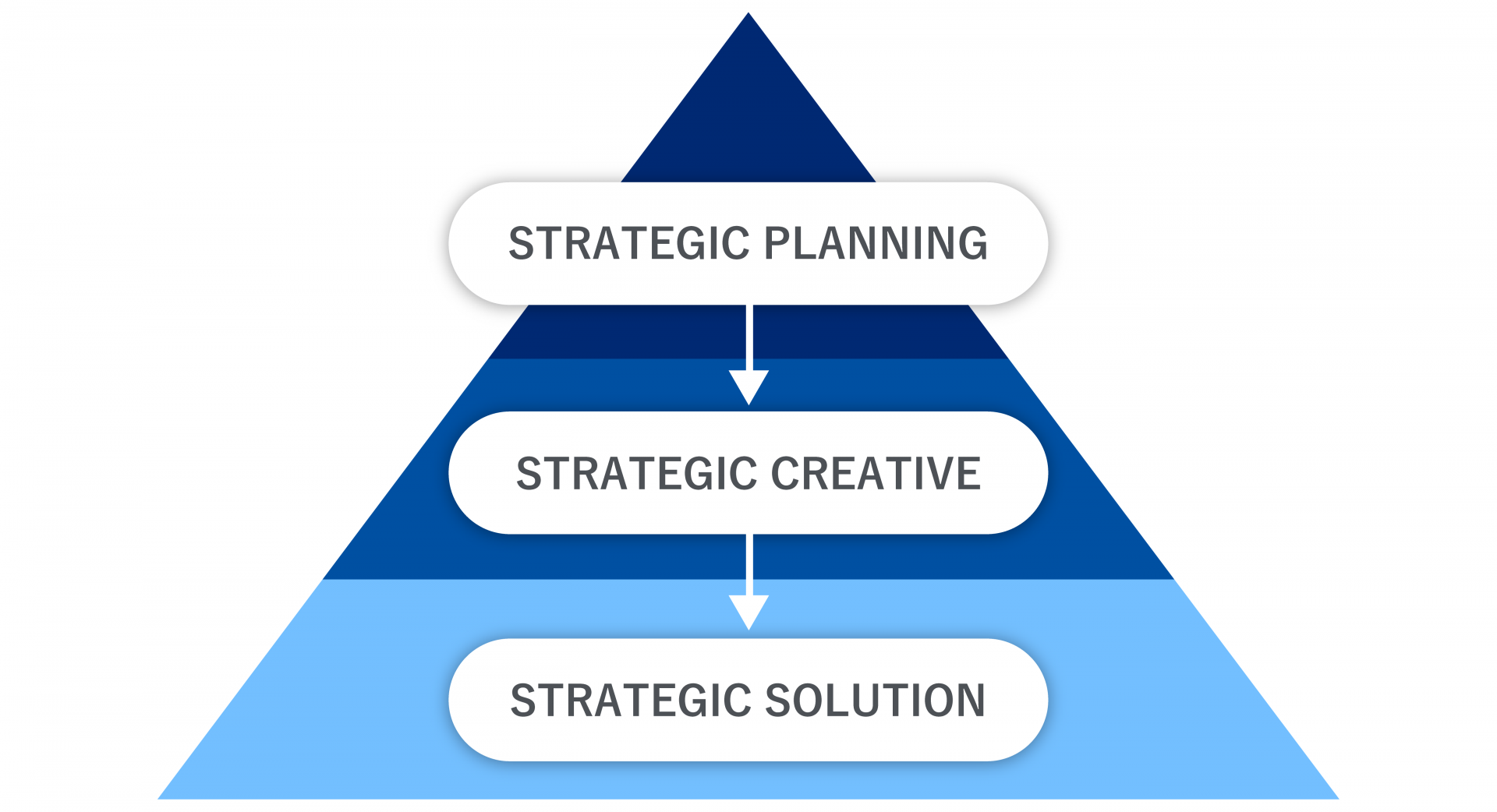 We are a new type of company that "provides comprehensive service from strategy planning to execution". Many of the partner companies for companies specialize in specialized areas.
It is true that effective measures can be provided precisely because it is a specialized service such as specializing in Consulting, specializing in CRM tool. However, it is thought that specialized services alone cannot solve the essential issues of a company.
It is said that corporate activities are "complex systems", and it is directly related to business performance to steer in a situation where there are many elements. There is a wide variety of things we can do to respond to a changing market environment. That is why "strategic agency" exists.
Because you can understand the strategy, you can create a product to maximize the effectiveness of the strategy, and you can "execute" it to make the best use of the planned strategy.
As a partner company that can support the management of all areas of corporate activities, and as a partner company that can provide one-stop service from strategy planning to product creation and solution delivery, we are currently leveraging our services for a wide range of companies, including General companies, advertising agencies, consulting firms, and many other companies.
We promise to contribute to the revitalization of Japanese companies through all the support necessary for corporate activities, whether it be Strategic Planning, Product production or solution delivery, and of course in all areas.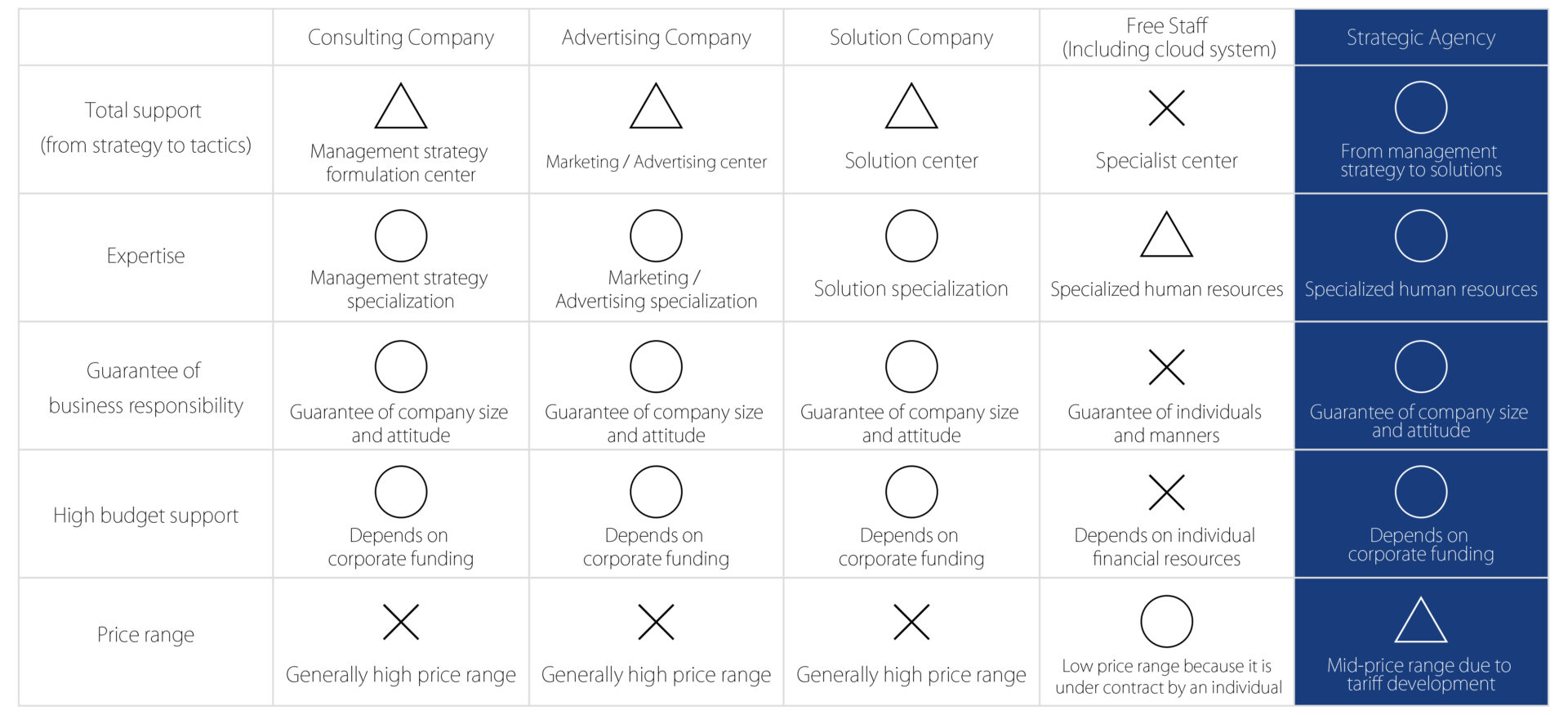 Want to make your company active with our services
It is a strong motivation from our President's past experiences.
His father was an ironworker. At that time, the Ironworks were gradually disappearing from the city due to the rise of building materials manufacturers.
And his father's Iron Works was no exception, unable to cope with changes in the market environment. "If there was a solution…"
The motivation of Mr. Ashida's management of the strategic agency is backed by these past experiences.
Thinking for the future
What are the next steps for companies in the global economy?
The importance of predicting the future has enhanced more than the past. We are always doing research in conjunction with the evolution of our own schemes, making predictions about the rapidly changing market conditions as well as what kind of industry will lead Japan in the future.
At the moment, what we are thinking as a keyword is "CSV". CSV means "Creating Shared Value", and means that economic value is created together by a company voluntarily tackling social issues, etc., and creating value for society.
In addition to our corporate performance, we also extend our perspective to the people, economy, and Society of the future, and we continue to think about what kind of strategies and preparations are necessary from the very point of view of CSV. The answer is not simple. We collect information in our research activities, verify it, research it, and incorporate it into the strategic planning framework "6e", and study it on a daily basis so that we can return it as a proposal to the company.
Symbiosis
Our company philosophy is "Symbiosis". If you look up the meaning of this word in a dictionary, it says "the living together of two dissimilar organisms, as in mutualism, commensalism, amensalism, or parasitism." We interpret the meaning of this dictionary as "to have true kindness toward others and to develop together."
We, Strategic Partners, wish each of our staff to be a "true partner" who can bring this "Symbiosis Mind" to everyone's pleasure.
Provide true service and enrich Japan from corporate activity.
The company will maximize its corporate value by leveraging its long-standing management and marketing strategy and product creation skills to provide companies with new strategic planning and product services that integrate them. Our mission is to revitalize Japan as a whole by energizing the minds of people and companies.
Strategy Changes ALL!
We consider strategy to be the wisdom of humankind to solve all problems, and express our intention to change everything with "strategy" based on our company's mission, from solving corporate problems to realizing a better society.

In March 2022, we renewed the corporate logo of Strategic Partners.
We have created a logo mark with the motif that the "six elements of management" that we have set as our ideal are connected and fused.
Company name
Strategicpartners Inc.
Establishment
December 3, 2012
Representative
CEO Hiroshi Ashida
Adress
R-11 THE SITE 3-25-29 2F Takanawa, Minato-ku, Tokyo-to

4 minutes walk from Shinagawa station on JR lines and Keihin line
9 minutes walk from Sengakuji Station on the Toei Asakusa Line
Contact
TEL:03-6459-3520
FAX:03-6459-3521
Capital
10:00 to 19:00
Membership of professional institutions
JAPAN Society for DBA
*Preparing for launch
Various certifications
JIPDEC Privacymark certified company(No.17002958)
Acquired trademark
・No.5940123
・No.5941896
・No.6420816
・No.6420817
Suppliers
・DENTSU INC.
・Tokyu Agency Inc.
・NIHON KEIZAI ADVERTISING CO.,LTD.
・HAKUHODO Inc.
・McCann Erickson Japan Inc.
・ADK Holdings Inc.
・Asahi Advertising Inc.
・NTT ADVERTISING, INC.
・CyberAgent, Inc.
・MOMENTUM JAPAN INC.
・FINDSTAR Co.,Ltd.
・Toppan Printing Co., Ltd.
・TOHO CO., LTD.
・Bunkahoso Career Partners
・Microsoft Japan Co., Ltd.
・VeriServe Corporation
・SHINEI-V
・SANKYO REELS,INC.
・Daiko Advertising Inc.
・TBS VISION
・TV TOKYO Corporation
・DeNA Co., Ltd.
・OZMA Inc.
・BREITLING JAPAN LTD
・Dentsu Isobar Inc.
・THIRD WAVE CORPORATION
・Japan High School Esports Federation
・Keio Rugby Club
・Path Finder Inc,
・IMJ Corporation.
・Japan International Society for Negotiation
・NKB inc.
・SUNNY SIDE UP, Inc.
・HAKUHODO PRODUCT'S INC.
・SONICJAM.Inc
・Dai Nippon Printing Co., Ltd.
・Cognizant
・Nippon SEC Co.,Ltd.
・nagakengumi.inc
・Yamase Inc.
・Signpost Corporation
・LAND COMMUNICATIONS INC.
・LINCREA Corp.
・Aioi Nissay Dowa Insurance Co., Ltd.
・Sumitomo Rubber Industries, Ltd.
・KOKOKUSHA
・LUNASANDINC.
・Teikyo University.
・ROSETTE Co.,Ltd.
・fullhouse inc.
・MEIWA REAL ESTATE Co.,Ltd.
・Le Ange, Co. Ltd.
・Japan Securities Scholarship Foundation