2021.08.24
World's easiest "management strategy" planning course prologue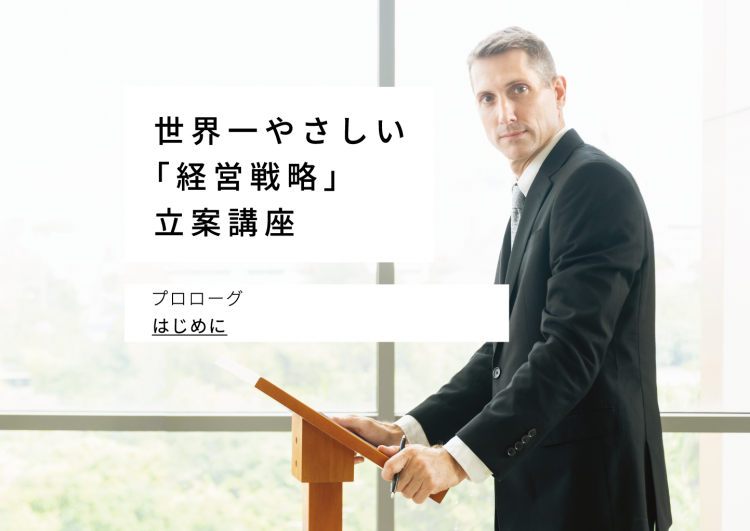 Introduction
Sales do not increase even if the sales staff is reinforced. The competition has increased and the company's superiority has diminished. I added a consulting company, but the management did not improve at all. I think everyone who picked up this book has some kind of management problem.
In recent years, when the economy has become globalized, the business environment has changed rapidly due to the effects of the shrinking domestic markets, the rise of companies in emerging countries, and the turbulence of overseas financial markets, and management that follows conventional methods is no longer valid.
According to a survey by the Small and Medium Enterprise Agency, "sluggish sales" is the number one cause of bankruptcy of small and medium enterprises, but "previous wrinkles" is number two (2014). A history of wrinkles means that no action was taken against the crisis.
It is said that it was not possible to come up with a new strategy in response to changes in the business environment because the management was obsessed with the continuation of successful businesses in the past, or even if they felt a crisis, there was no one to consult with. That is.
For some time, many Japanese companies have been the second president of a family-owned business or the president of a salaried worker who has passed through internal politics, and it has been said that there are fewer professional managers than overseas companies.
Examples such as Nissan Motor Co., Ltd., which invited Carlos Ghosn to make major reforms, are rare, especially in small and medium-sized enterprises.
In addition, the reality is that even consulting companies, advertising agencies, IT vendors, etc., who are business management partners, can only perform "partial optimization" to a certain extent. Since we do not have the power to support the formulation of comprehensive management strategies, there are many cases in which management activities are confused due to poor handling.
Behind this is the lack of opportunities to practically learn the management strategies of managers and executives.
I have studied business management at graduate schools in the UK and Europe, but it seems that the content taught in Japan and overseas is very different. Whereas practice is emphasized overseas, learning theory as knowledge is the main focus in Japan.
If you are a scholar or a critic, you may study the theory, but as long as you are actually involved in management, it is meaningless unless you can put that knowledge into practice.
When I was once involved in the management of an advertising company, I became strongly aware of these issues. I realized that no matter how much money a client spends on advertising, it has little effect unless it is thought out as part of a business strategy.
After that, he once abandoned his knowledge and experience in advertising, which is his specialty, and decided that it was his "mission" to solve the management issues of the company, and started a new initiative. We aimed to develop a new scheme to solve management issues by bringing together experts from various industries such as talented strategic consultants and creators.
In 2012, we established a comprehensive corporate management strategy support company that combines the know-how of consulting companies, advertising companies, and IT vendors. The fields of business strategy formulation for listed companies, advertisement production, management strategy formulation for small and medium-sized enterprises, regional revitalization projects, space development projects, etc. are expanding year by year.
In this book, not only the knowledge I have accumulated so far, but also various know-how in business administration research and corporate strategy support are summarized in an easy-to-understand manner.
There is a wide range of content to be introduced, such as the "six basics" and various strategic techniques, which are essential elements of management warfare, which I gained from my own management strategy research and practical experience in the field. We try to make it easy to read with easy-to-understand words and explanations, which is different from the books on difficult management strategies.
It would be great if there was even one person who could use this book as a hint for management and solve the business stagnation and feel "I'm glad I picked up this book."
Hiroshi Ashida, CEO of Strategic Partners