2021.08.24
The world's easiest "management strategy" planning course Chapter 8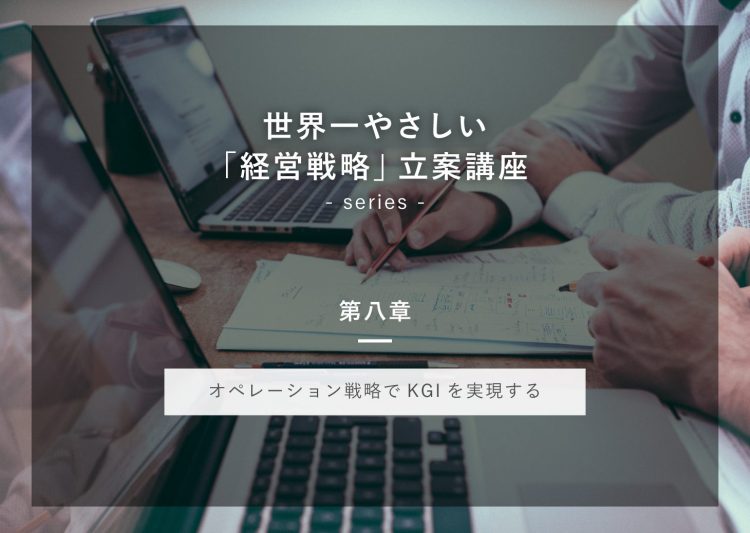 Achieve KGI with an operational strategy
How to develop an operational strategy
As the name implies, an operation is finally a practical action. In business, it generally refers to establishing a procedure for operating and promoting things in order to achieve the goals of the business, and a series of work and business plans to be carried out according to the procedure.
No matter how much you have a management strategy, if you do not have a solid operation, which is a concrete process to realize it, you will not be able to manage your company smoothly. Therefore, the plan for this operation must be well designed.
Operation strategy example
The operation strategy is one of the measures that seeks new developments in addition to the conventional sales activities. It depends on what you do, but you have to consider not only how to treat customers, but also how to present, use marketing tools, support business partners, and so on.
 
In the world of operational strategy, "omni-channel" is currently attracting attention. It's been talked about for a while, so you may have heard of it.
Currently, the spread of online shops is remarkable. For example, with the advent of Amazon, bookstores in the town are steadily crushing, Rakuten Ichiba, Yahoo shopping, and local products can be ordered online. It's an era where you can do it. As a product seller, you can't do business without an online shop.
 
Macy's, the most famous department store in the United States, started working as early as 2011 in order to rebuild a physical store that was about to be crushed by this wave. It is a long-established department store that was the setting for the movie "Miracle on 34th Street in New York", where a court drama was unfolded about an old man dressed as Santa Claus and the unexpected ending was reached. The CEO has made an "omni-channel declaration" to compete with the online shop.
 
"Omni-channel" is to satisfy the diversified shopping motivation of individuals, and to follow all the various purchasing routes from the Internet to the store, from the store to the delivery, from the word of mouth to the Internet, all in one company. It is a new sales strategy.
At Macy's, behind the long-established style, we are making full use of IT technology with tremendous momentum. We have developed and distributed smartphone apps from an early stage, and can use them in online shops and physical stores. We are also working on reading product tags with QR codes, developing online shops, and delivering to home immediately with a distribution center in the store.
 
In addition, with the introduction of thorough IT technology, such as accumulating customer information data and accumulating and analyzing it as big data by a method called tracking, which route led to the purchase of products, the actual situation is leaning toward other things. Sales are growing rapidly, with the stores and department stores in the back. The Japanese department store industry is struggling, but if you think about how to do it and develop new sales methods with your wisdom, you can easily overcome such problems. We call this the new "Miracle of New York 34th Street".
I think that such complicated operation design is difficult for a small company, but at least it is not so difficult to find out what kind of operations other companies in the same industry are doing. It is also effective to investigate this and give feedback to your company.
Operation design process that suits your company
1.Design KPIs (Key Performance Indicators)
KPI is to quantify and evaluate not only overall sales, profits, business days, sales between branches, but also customer satisfaction (CS), which is difficult to measure numerically, by setting some criteria. is.
 
Most companies with organizational problems have ambiguous KPIs, or evaluation designs. Sales and production departments, such as sales, which can be seen in terms of sales figures, and non-production departments, such as accounting and general affairs, cannot be evaluated equally. If you simply create a batch evaluation standard, the departments that are not included in the evaluation will be discouraged.
 
Since goals and evaluation methods are different in each department, as a motivation to motivate everyone and step up, it is necessary to create an appropriate evaluation standard for each department and create a mechanism to give an appropriate evaluation. Is required.
2.Business operation design
Who and how do you sell?
Which distribution will you develop?
What kind of product will you develop?
Here we plan what we should do up to the previous chapter.
Make a schedule, select a contractor, hire a contractor, and make a plan for all of them.
 
I will explain another important thing.
 
There are various bottlenecks in the formulation and execution of these.
The plan was good, but it didn't go well. As a result, I often hear that competitors released products earlier and their products did not sell.
 
Business operations are the very daily corporate activities that exist in any company. In the first place, if the business does not go well, management activities cannot be performed, so it is an important foundation that supports corporate management. Efficiency is the first priority for business operations. Many managers make efforts to improve the efficiency of the production line of a factory, but in reality, it is often thought that the efforts to improve the operational efficiency of the entire company are small. As the company grows larger, the complexity increases and the times change as a company. There are many cases where the company becomes a slow-moving company that cannot cope with the situation. Therefore, it is important for managers to listen to the voices of employees in which department and what kind of bottleneck is occurring. Then, the technology of how to eliminate the bottleneck is tested. Business operations enable a strong response in the event of a major or competitive situation, for example. It is also a source of competitiveness as a company.
3.Verification / improvement meeting
The most important part of this is verification and improvement. Be sure to verify the results you get from the plan you've run, the deficiencies and glitches you're running, whether you succeed or fail. If successful, what can I do to take it even further? What was wrong if it failed? If not a failure, but not enough, why? Face the consequences of what you have achieved. We will turn success into know-how, correct plans for failures and defects, and aim for the next success. This creates the impetus for growth.
 
The flow of improvement through repeated analysis and verification can only be viewed in a biased manner by one person, so it is essential to collect, verify, and put into practice many opinions and ideas at meetings.
4.Effect measurement / improvement method
Effectiveness measurement refers to looking back on the measures taken in marketing, management, etc. and evaluating them in a visible manner. The effect of advertising in marketing is easy to quantify, and methods such as calculating LTV (lifetime value of customers) for total sales are generally used to measure the effect.
 
For corporate activities that cannot be calculated in this way, for example, take a customer survey or listen to the story directly in an interview to confirm the reaction, and based on the obtained results, consider how to improve for the next. I will think about it. The results obtained by measuring the effects are treasures. It needs to be standardized so that it can be shared by everyone.
So far, we have explained in Chapters 3 to 8 based on the functions of "6e". Now, please look back at the six configurations.
 
So far, I've reviewed individual strategies, but last but not least.
That is the word "fit".
 
For example, the philosophy and mission are different from the actual business of the company.
I'm planning a franchise. There is no financing scheme.
Large-scale promotions are likely to generate large inquiries, but there is no staff procurement plan to respond to them.
If you raise it, there is no end to it, but most of the causes of failure in the execution of management strategy are when these six configurations do not match.
 
The point is that if the six configurations are "fit" and inconsistent, the business strategy will fail.
Write down the points of the business plan you created once and check if it "fits".